---
Run a kubernetes cluster​
What is sealos​
sealos is a cloud operating system distribution based on kubernetes.
From now on, think of all your machines as an abstract supercomputer whose operating system is sealos, where Kubernetes serves as the OS kernel.
Instead of IaaS, PaaS and SaaS, there will only be cloud OS drivers(CSI, CNI and CRI implementations), cloud OS kernel(Kubernetes) and distributed applications.
This is not win11 but sealos desktop​
Use the cloud like a PC desktop, Freely run and uninstall any distributed applications: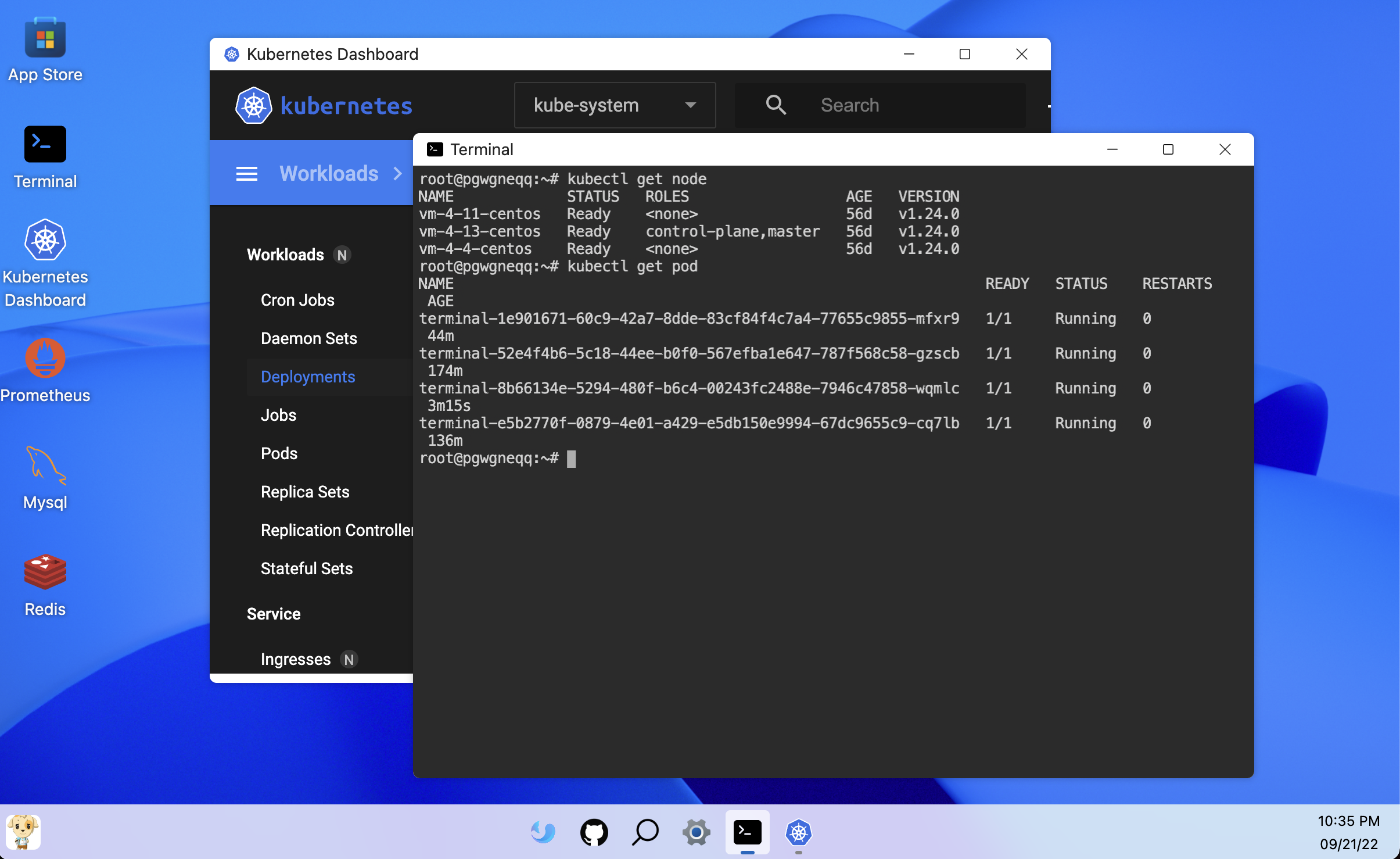 Core features​
Manage clusters lifecycle

Quickly install HA Kubernetes clusters
Add / remove nodes
Clean the cluster, backup and auto recovering, etc.

Download and use OCI-compatible distributed applications

OpenEBS, MinIO, Ingress, PostgreSQL, MySQL, Redis, etc.

Customize you own distributed applications

Using Dockerfile to build distributed applications images, saving all dependencies.
Push distributed applications images to Docker Hub.
Combine multiple applications to build your own cloud platform.

Sealos cloud

Run any distributed applications
Have a full public cloud capability,and run it anywhere
Quickstart​
Installing an HA kubernetes cluster with calico as CNI
Here kubernetes:v1.24.0 and calico:v3.24.1 are the cluster images in the registry which are fully compatible with OCI standard. Wonder if we can use flannel instead? Of course!
# Download and install sealos. sealos is a golang binary so you can just download and copy to bin. You may also download it from release page.




$ 

wget

  https://github.com/labring/sealos/releases/download/v4.1.3/sealos_4.1.3_linux_amd64.tar.gz  

&&

 

\




    

tar

 -zxvf sealos_4.1.3_linux_amd64.tar.gz sealos 

&&

  

chmod

 +x sealos 

&&

 

mv

 sealos /usr/bin 




# Create a cluster




$ sealos run labring/kubernetes:v1.25.0 labring/helm:v3.8.2 labring/calico:v3.24.1 

\




     --masters 

192.168

.64.2,192.168.64.22,192.168.64.20 

\




     --nodes 

192.168

.64.21,192.168.64.19 -p 

[

your-ssh-passwd

]



Single host
$ sealos run labring/kubernetes:v1.25.0 labring/helm:v3.8.2 labring/calico:v3.24.1 --single




# remove taint




$ kubectl taint 

node

 --all node-role.kubernetes.io/control-plane-



Building a custom cluster image
See Building an Example CloudImage.
Storage, message queue, database, etc.
Don't be shocked by the following:
sealos run labring/helm:v3.8.2 

# install helm




sealos run labring/openebs:v1.9.0 

# install openebs




sealos run labring/minio-operator:v4.4.16 labring/ingress-nginx:4.1.0 

\




   labring/mysql-operator:8.0.23-14.1 labring/redis-operator:3.1.4 

# oneliner



And now everything is ready.
Use cri-docker image​
sealos run labring/kubernetes-docker:v1.20.5-4.1.3 labring/calico:v3.24.1 

\




     --masters 

192.168

.64.2,192.168.64.22,192.168.64.20 

\




     --nodes 

192.168

.64.21,192.168.64.19 -p 

[

your-ssh-passwd

]



Links​
Join us: Telegram, QQ Group(98488045), Wechat:fangnux
License​